The Portable Shampoo Bowl is one healthcare solution caregivers, patients and their families would be happy to find. It means one less everyday problem they have to face.
It's not sophisticated but functional. That's the most important and basic feature for the purpose it serves. Other products are available with similar features.
Let's check it out!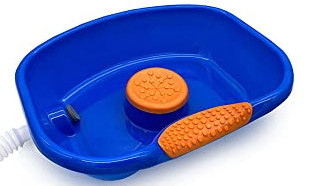 (As an Amazon Associate, I earn on qualifying purchases.)
Overall Features | Just the Basics
Name: Portable Shampoo Bowl
Sold By: Amazon.com
Price: $19.97 (This price is subject to change.)
Color and Material : Blue plastic
Size: 18″ x 14″ x 5″ deep
Overall Rank: 8.4 out of 10
Features:
Portable
Build-in head rest
Neck support
12″ to 31.5″ telescopic drain hose
Drain stopper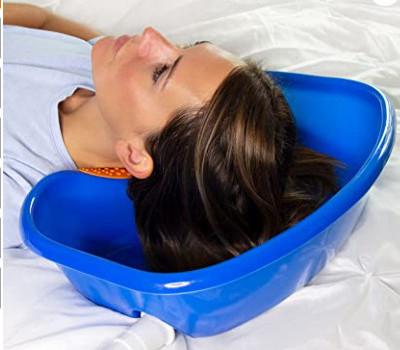 Benefits:
Lightweight and easy to carry making it convenient to use as a caregiver in the home or traveling to assist patients.
The built-in head rest in the center of the basin has a silicone/rubber cover to prevent discomfort.
The ergonomic neck rest makes it more comfortable on the neck.
The expandable drain hole is a reasonable length to empty the basin from a bed to a bucket or pail on the floor without spillage.
The rubber drain stopper secures the hole preventing the water from running out until you unplug it.
Who Gets It? | The Elderly, Bedridden, and Disabled
There are millions of people who are unable to care for themselves adequately. Many of them use the help of caregiver for their activities of daily living (ADLs).
Some of them are too weak to get out of bed or get into the shower. They require proper hair care along with numerous other needs. The Portable Hair Bowl is a solution which can make caring easier.
There are others with various special needs who would benefit from this product with the help of a family member or professional caregiver.
This could be a caregiver's best friend when there's no other option or nothing else seems to work. I was delighted to find this as a solution in my capacity as aide to the elderly.
What Others Are Saying | Portable Shampoo Bowl Reviews
The Portable Shampoo Bowl gets a 4.2 rating out of 5. Here's a summary of some comments from other purchasers:
Pros:
Lasts longer than the inflatable types.
Sturdy
The neck and head rests are comfortable.
The size is adequate.
It works well with short hair.
Cons:
It leaks at the drain hold despite the stopper.
It's too small.
It's not deep enough.
The drain hose is too flimsy and not long enough.
The water runs out too slow.
A Healthcare Solution | It Works for Me!
I have used this with satisfactory results. It's sturdy enough and the size works well for me washing someone's hair below shoulder length.
I was surprised that my very elderly patient was comfortable with the neck and head rests. I was prepared to use towels on top of them but she was fine.
My recommendation is to always use protection underneath the basin before washing someone's hair or bathing them in bed. This should be a no brainer even without considering a leak from a drain hole.
There was no leak at the drain hole when it's plugged properly. The drain hose is a bit flimsy but adequate. The expanded length stayed inside the small bin I was using to catch the waste water.
It helped to slightly elevate the side of the basin opposite the drain hole to make draining easier. Whatever water was left at the end was poured out without a problem.
Portable Shampoo Bowl | Hair Washing in Bed Made Easy
Overall, this basin is a great solution for a common problem. Caregivers have to be creative when taking care of others. Most of the time they are unable to think for themselves and family members are at a loss.
The pros and cons from purchasers' reviews are reasonable as everyone has different needs. It isn't one size fits all, but it is right for some situations.
If you think this shampoo basin is right for you or know someone who this would benefit, CLICK HERE for more details and to make your purchase.
Caregivers, patients, and family members are always looking for solutions to the numerous problems they are faced with every day. The Portable Shampoo Bowl is one such solution.
(As an Amazon Associate, I earn on qualifying purchases.)
Please feel free to leave your questions and comments below. I will do my best to address them.
Veron
Wealthy Affiliate Premium Member: https://affiliateecosystems.com/wealthy-affiliate-in-review-leading-the-way-for-17-years/