The NutriBullet ZNBF30500Z Blender Combo is an upgrade from the original NutriBullet product. Experience the best of both worlds making smoothies with the options the combo offers.
Grab a cup or two or make a whole 64 oz batch in the blender. If you already own the smaller version, it won't hurt to invest into something that will make life easier and save you time in the kitchen.
That means more cups and bullet power on hand if there are more people to serve or different flavors and recipes to make.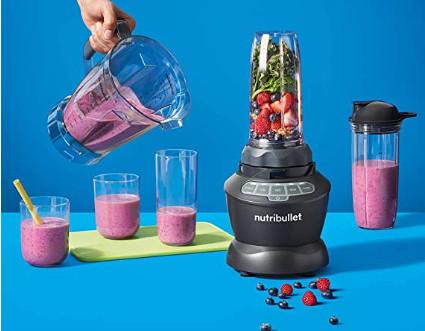 (As an Amazon Associate, I earn for qualifying purchases.)
Overall Features | The Basics
Name: NutriBullet ZNBF30500Z Blender Combo
Sold By: Amazon.com
Brand: NutriBullet
Price: $126.69 (This price is subject to change.)
Color: Dark Grey
Capacity: 1600 Milliliters
Overall Rank: 9.4 out of 10
Here's what you can expect:
1200 Watt motor base
64 oz blender
32 oz and 24 oz cups with lids
Extractor blade
Tamper
Easy to clean
Recipe book
1-year Limited warranty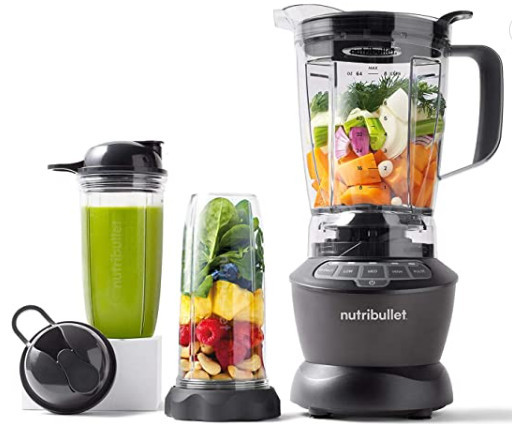 Now for the Benefits:
A 1200 Watt motor base gives you maximum power for everything you choose to extract with your blender.
A 64 oz blender can make an adequate batch for your family.
Two separate cups, 32 oz and 24 oz, come with a to-go lid.
The extractor blade fits the two cups for individual blending.
The tamper makes it easier to gently level your fruits and vegetables properly in the blender jar.
All parts are easy to clean with soap and water. (Read the manual carefully to avoid any damage.)
Delight yourself with various recipes using fruits, vegetables, nuts, and grains.
Your Limited warranty is good for 1 year. You can have peace of mind that you'll get the support you need if anything goes wrong with your product.
Why Would You Buy This? | Make Your Life Easier.
It's great to have the right kitchen tools and gadgets to accomplish essential tasks. NutriBullet gives you the opportunity to choose individual cups, a blender, or a combination of the two.
Picture this:
You need a quick smoothie to go or something you have a special taste for while you relax or work on a project. You put your ingredients in a 24 oz or 32 oz cup, attach the blade, set it on the base and choose your setting.
Maybe someone else has a desire for something different from you do. Make separate cups for everyone.
It's just as easy to make a batch in the blender jar. This may be several servings for yourself throughout the day or a few glasses for family or friends.
Quick and easier can really make your life more enjoyable!
What Others Are Saying | NutriBullet Reviews
The NutriBullet Blender Combo gets a 4.7 out of 5 rating on Amazon.com by other purchasers. They found that it's …
Superior to, quieter, and more powerful than some other brands.
Leak proof
Cups and blender are a good size.
Grinds tough and frozen ingredients easily.
Easy to clean
Noisy
Several years ago, I purchased three NutriBullets for two family members and myself. It was a great purchase and still serve us well.
November 2021, I wanted something bigger and discovered the NutriBullet Blender. I couldn't go back to a regular blender after my first NutriBullet experience.
My original one is extremely noisy; this upgrade is quieter. The individual jars are bigger and a better design, I think. I love both; however, the versatility of the NutriBullet Blender Combo makes that my favorite.
Time to Wrap Up. | NutriBullet Blender Combo
If you're like me, once you go NutriBullet there's no turning back. This particular package is an upgrade from the original in many ways.
The reviewers have made their point and most are satisfied with their purchase, myself included.
It is safe for pulverizing fresh and frozen fruits and vegetables, nuts, items for making smoothies, soups, and other recipes. The recipe book gives your more ideas. Be creative!
Your kitchen will be a more enjoyable place for you and your entire family.
To purchase or not to purchase … the choice is yours. What are you looking to accomplish? The features and benefits are laid out above. CLICK HERE for more details and to make your purchase if that's what you decide to do.
(As an Amazon Associate, I earn on qualifying purchases.)
Please feel free to leave your comments and questions below. I'll do my best to address them.
Veron
Wealthy Affiliate Premium Member: https://affiliateecosystems.com/wealthy-affiliate-in-review-leading-the-way-for-17-years/