"What to Buy Review | Portable Solar Generator Power Station" features a multi-functional system. It's lightweight and powerful for general use and emergencies.
It's handy for your home, indoors and outdoors, entertaining, camping, and anywhere you choose. For instance, you can continue to enjoy your devices and having electricity when everything else around you shuts down.
And you can pack up and go out into the woods without the fear of running out of power. While there you can surf the internet, research and write your articles, or read a book.
Please continue reading to see the features, benefits, and what other purchasers have to say about this mini portable solar gadget.
(As an Amazon Associate, I earn on qualifying purchases.)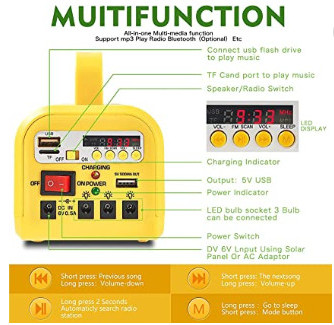 Overall Features | Portable and Powerful!
Product: Portable Solar Generator Power Station
Sold By: Amazon
Brand: Soyond
Price: $48.99 (This price is subject to change.)
Color: Yellow
Battery Capacity: 4V 8000mAh
Light Source: 3W Led Bulb, 2 pcs, high lumen
Radio: Built-in FM radio with memory function LED display
USB/TF: Support USB/TF music play, for flash drive
Mobile Charging: Nokia, Micro USB, Samsung, iPhone
AC Charger: Rechargeable (6V 1A)
USB Output: 5V 0.5A
Overall Rank: 7.6 out of 10
Here are some features you'll appreciate:
This works as a solar home lighting system.
You get a monocrystalline silicon solar panel which has high conversion efficiency.
Additionally, you get two (2) energy-saving bulbs with 9-ft cable. And they provide light for up to 7 hours.
The station has three (3) LED bulb sockets.
Also a power indicator.
And a power switch.
There's also a speaker/radio switch.
Also LED display.
It offers intelligent USB charging, strong compatibility, and high efficient output.
And has flash drive and TF ports.
Along with DV 6V input for solar panel or AC adapter.
In addition to a carry handle.
It has zero emissions, therefore, zero pollution.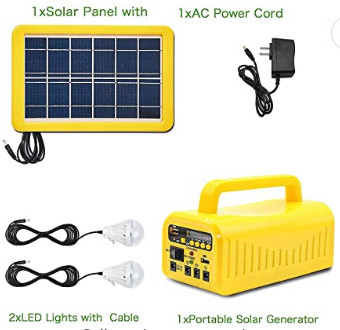 You may also appreciate these benefits:
Use this solar lighting system to cut back on the ever-increasing cost of electricity. As a result, you can save that extra money or use it for something else.
Enjoy further savings by using the solar panel to charge the generator instead of electricity.
These two energy-saving bulbs will replace your expensive lighting where you need them the most.
Plug them directly into the generator, and there's even room for one more bulb!
The power indicator lets you know when it's charging.
Turn on the power switch to use the light bulbs and to charge your devices.
Another switch controls the speaker/radio.
The LED display allows you to see numbers clearly.
USB charging is compatible with a wide variety of your important electronic devices. For example, you can charge your mobile phones, tablets and iPad, PDA, MP3, and game consoles.
Enjoy music from your flash drive or TF card plugged directly into your generator.
Plug in your solar panel and let the sun work for you while you work or play to your heart's content.
Although it's lightweight and easy to pick up, a handle makes it easier to carry.
Finally, there's no need to worry about emissions or pollution as it's environmental friendly.
Why You Would Buy This | It's All-in-One!
Take its components into consideration and see all the gadgets it's replacing. I'm sure you can think of a number of them you wish you didn't have to take everywhere with you.
Or maybe they are clustering your table or countertop in your home or office. This generator can make a difference in minimizing and organizing your space.
Furthermore, there are major benefits to having all-in-one devices. Chances are you may not want to keep adding to your already numerous scattered collection of gadgets.
Plus the versatility makes traveling less cumbersome and more enjoyable for everyone. You could also consider buying this as a gift for someone who would appreciate it.
I bought one for my sister and her daughter overseas months before buying one for myself. They were having frequent power cuts and also high electricity bills in general.
Since then, they have been using the two bulbs from the generator in their bathroom and a bedroom. Subsequently, their energy bill is reduced significantly.
Furthermore, they can charge their devices conveniently and enjoy having light from their personal generator when the electricity goes out.
I didn't get a chance to see or test the product until I got jealous and bought mine recently. My sister's word of mouth sold me on getting my own. However, I thought it was a good decision in getting it for her. And I did!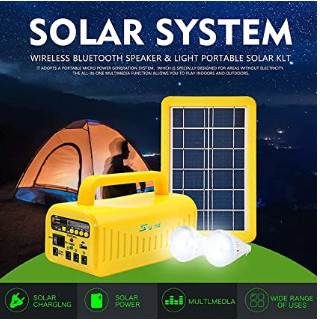 What Others Are Saying | Portable Solar Generator Review
The Portable Solar Generator Power Station gets a 3.8 out of 5 rating on Amazon.com with 52% giving it 5 stars. Here's a summary of some comments from other purchasers.
Pros:
The solar panel charges effectively.
Someone said the light bulbs were bright.
One purchaser said it worked for over 12 hours when the unit was fully charged.
And the cords for the bulbs were extremely long!
Others said their tablet and phone charged well together.
Also, the radio station and music player worked very well.
Cons:
The light is red when charging but doesn't turn to green when it's fully charged.
Some thought it took too long to charge by solar or when plugged into an outlet.
There's no AM radio, only FM.
And some persons said the radio station signal was weak.
Overall, most of the reviewers agreed it served a purpose and they were happy with it.
Conclusion | Is it Worth Buying?
This mini all-in-one portable solar system has much bigger features than its appearance. So, don't take its size and lightweight for granted.
Be mindful that it takes at least 10 hours to fully charge plugging the adapter into an outlet. Likewise, it takes a number of hours when using the solar panel to charge it.
It's definitely a game changer in that it takes the place of several gadgets you'd have to take with you to get the same results. For example, you would need the following:
A flash light and/or other light sources.
Also a power bank.
You would also need a radio.
And TF and/or other music player.
(As an Amazon Associate, I earn on qualifying purchases.)
So, what do you think? Is this product right for you? It's time for you to make your own decision. Please CLICK HERE to learn more about it or to make your purchase.
I hope you find "What to Buy | Portable Solar Generator Power Station" packed with valuable information to help you in your purchasing journey.
Also, feel free to explore further from my Amazon links for anything else you may be considering for yourself, family members, or friends.
If you have any comments or questions, please leave them below and I'll do my best to address them.
Thank you for stopping by!
Veron
Wealthy Affiliate Premium Member: https://affiliateecosystems.com/wealthy-affiliate-in-review-leading-the-way-for-17-years/